Video tutorials
This tutorial series shows Hypar Space in action, starting from a Revit Model — for a more detailed walkthrough, refer to the instructions that follow.
Exporting a model from Revit to Hypar
Follow the instructions below to create test fits with Hypar Space!
Select the Space Planning Template under Getting Started, or create a New Workflow and use the Space Planning Template from there!
Select one of the available options for where you'd like to start. In Hypar Space you can draw from scratch, or begin with a Revit model, a DXF file or an image file, or you can start with the Office Test Fit sample project by selecting "I want to explore a sample project" to explore Hypar Space with a pre-built project. Hypar Space utilizes the Actions panel - located on the right side within Properties - to guide you through the full test fit process. As you progress through Hypar Space, the Actions panel will present you with relevant tools and information to complete each stage. The Views panel provides you access to a curated series of views, presenting you with essential model information that is relevant to each stage. See the corresponding sections below if you are starting with a reference file:
To begin from scratch, select the option I want to draw from scratch. You will then be presented with the option of beginning a single or multiple floor project, and don't worry - you can always add additional floors to your project if needed.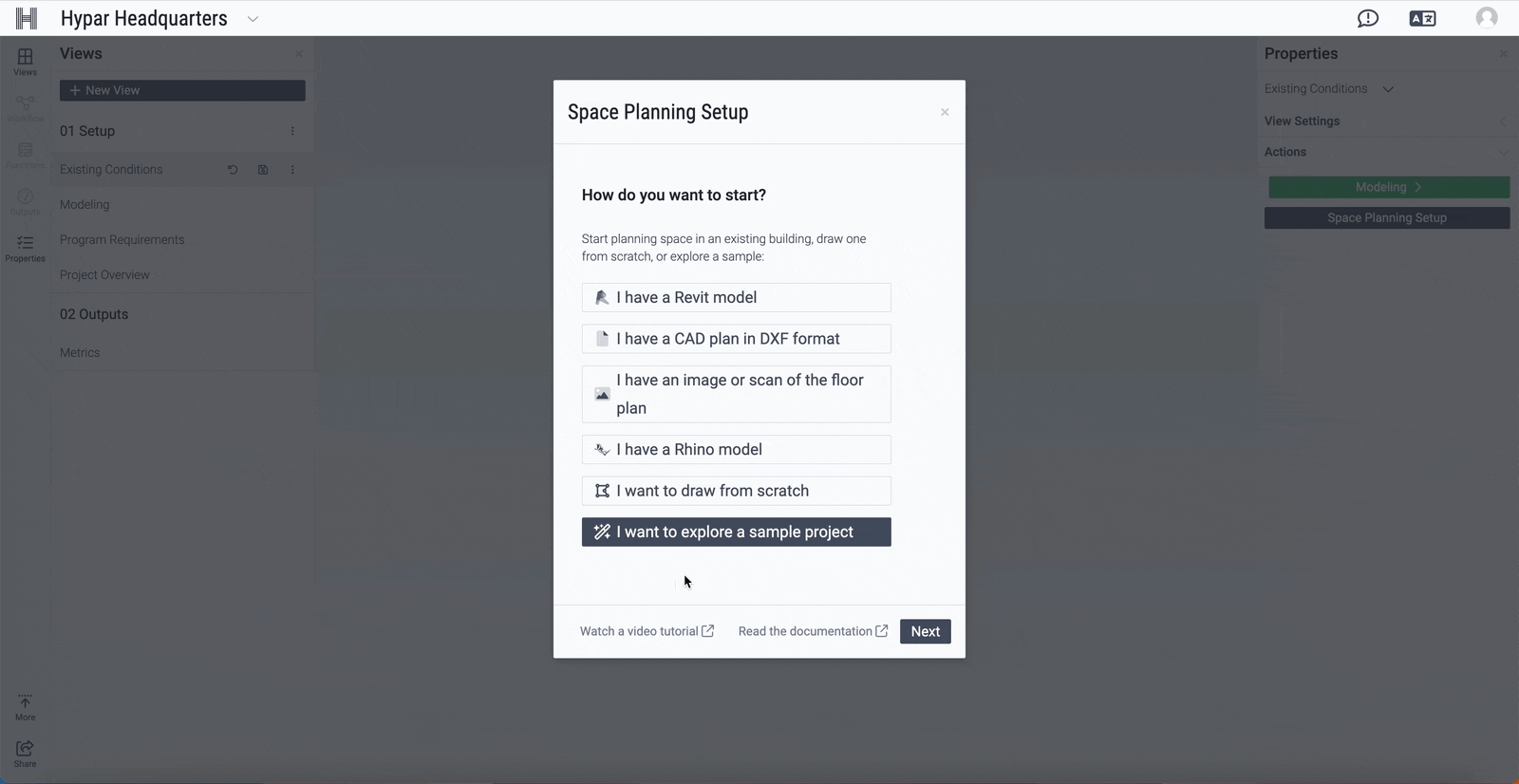 In the Actions panel, click Add Floors to begin sketching your floor plan. You can loosely sketch by clicking in the modeling viewport or tab to input a length or coordinate. Once you've finished sketching, hit Save.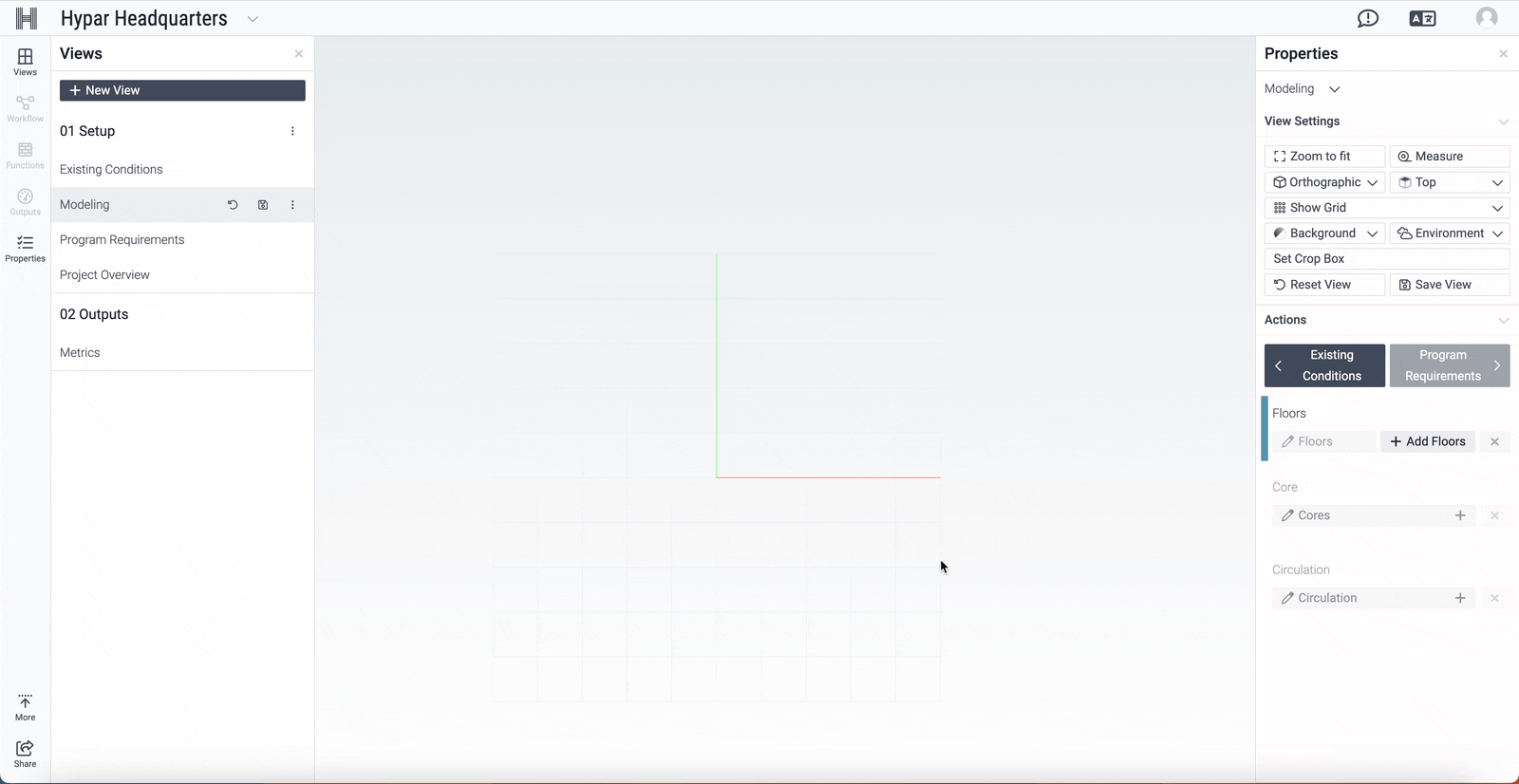 Once everything loads, you should see a very preliminary layout, with a placeholder core and your sketched floor plan. We'll go through the steps to make it more realistic, and tune it to our needs.
Modify the Core element by selecting the Cores option in the Actions panel to adjust its shape and position, if needed.
Next, we'll configure the Circulation. This is where we'll set up the corridors and circulation paths, which split up the floor into spaces. We can adjust

Alignment

and

Width

parameters to see how they affect the overall layout. You can also click on any section of the generated circulation to edit it, or to add more circulation paths.
Some spaces in the layout are likely to be too large, and you may want to assign multiple program types to one of the defined zones created from your floor plan. Navigate to the Level you'd like to work on in the Actions panel and select Spaces. You can use the Draw, Edit, and Split tools to create further subdivisions to define your spaces. Split will subdivide the space with a line perpendicular to the edge nearest where you click (so be mindful of where you click).
To assign a program type to your zones, simply click the zone you want to change and select an option from the Program Type dropdown. You may select multiple zones at once by holding down the Shift key. While inside the Spaces edit mode you can change program types on the fly, when outside of edit mode be sure to click Save when you're done with your change.
You may want to adjust some of the individual parameters for each space type. For example, if you want to change the desk type utilized by the Open Office program, you can click one or more zones designated as Open Office and change the settings through the Actions panel.
You may proceed back and forth between adding / editing subdivisions and corridors, assigning space types, and making other changes. Just note that if you make radical changes to the layout, some of your space assignments may disappear, if the space you designated has changed beyond recognition.
Additional tips + instructions
Starting from an image
Select the option "I have an image or PDF of a floor plan" to import your image file.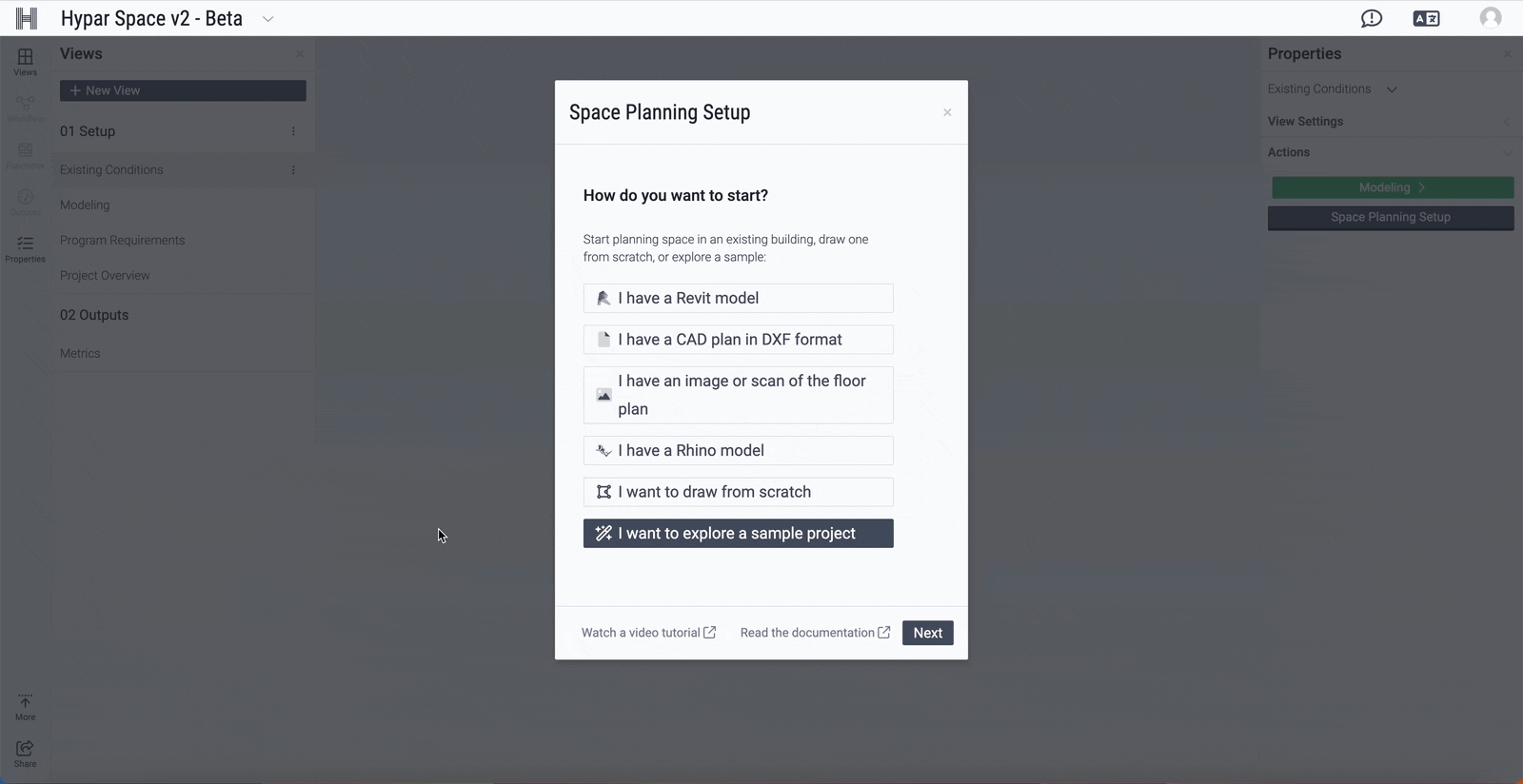 If using a PDF file with multiple pages, select the corresponding page.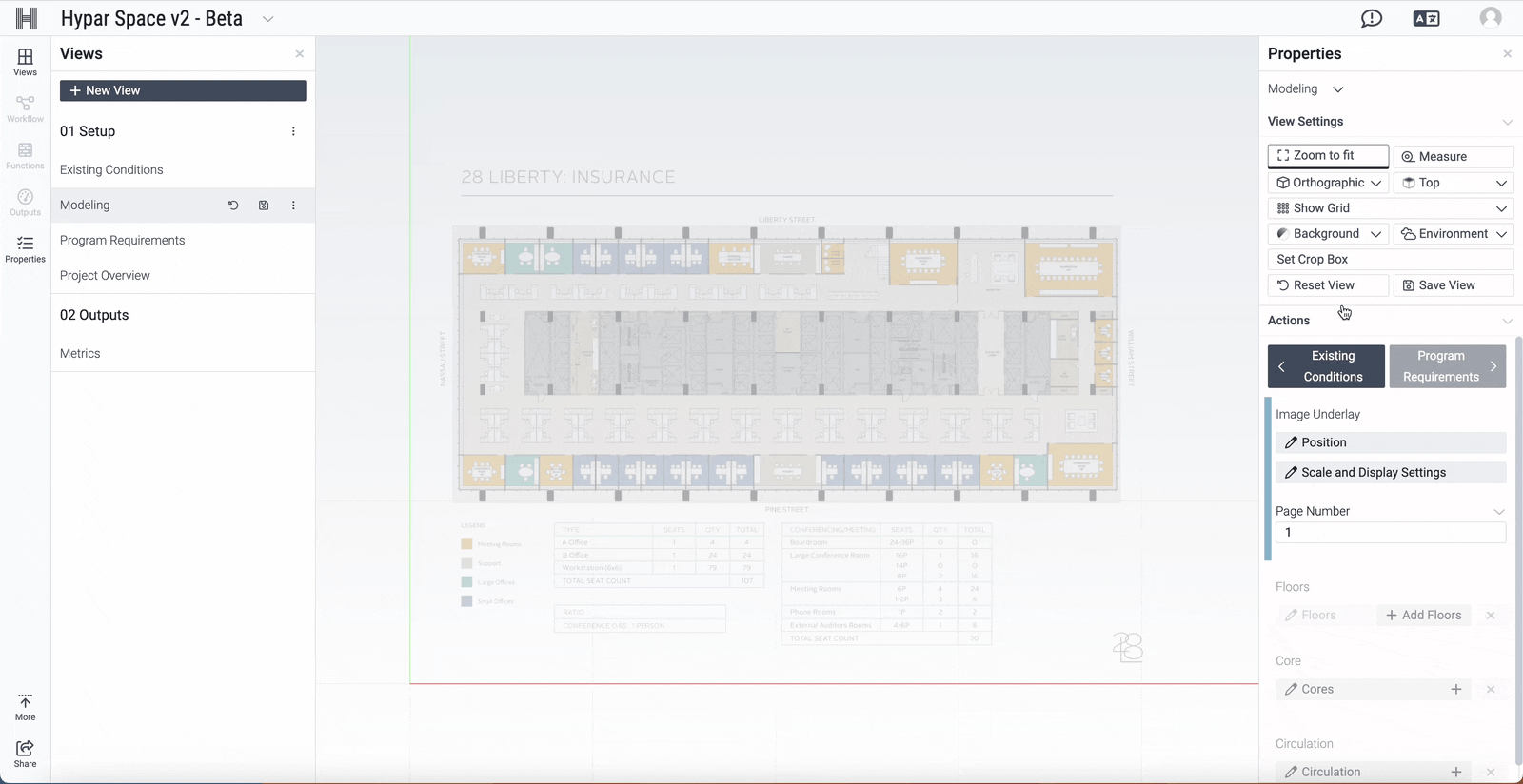 Scale the reference image by selecting Scale and Display Settings and then either drawing a reference line of a known dimension or drawing a reference line on the image and a corresponding reference line in the model.
Position the image by using the Position action.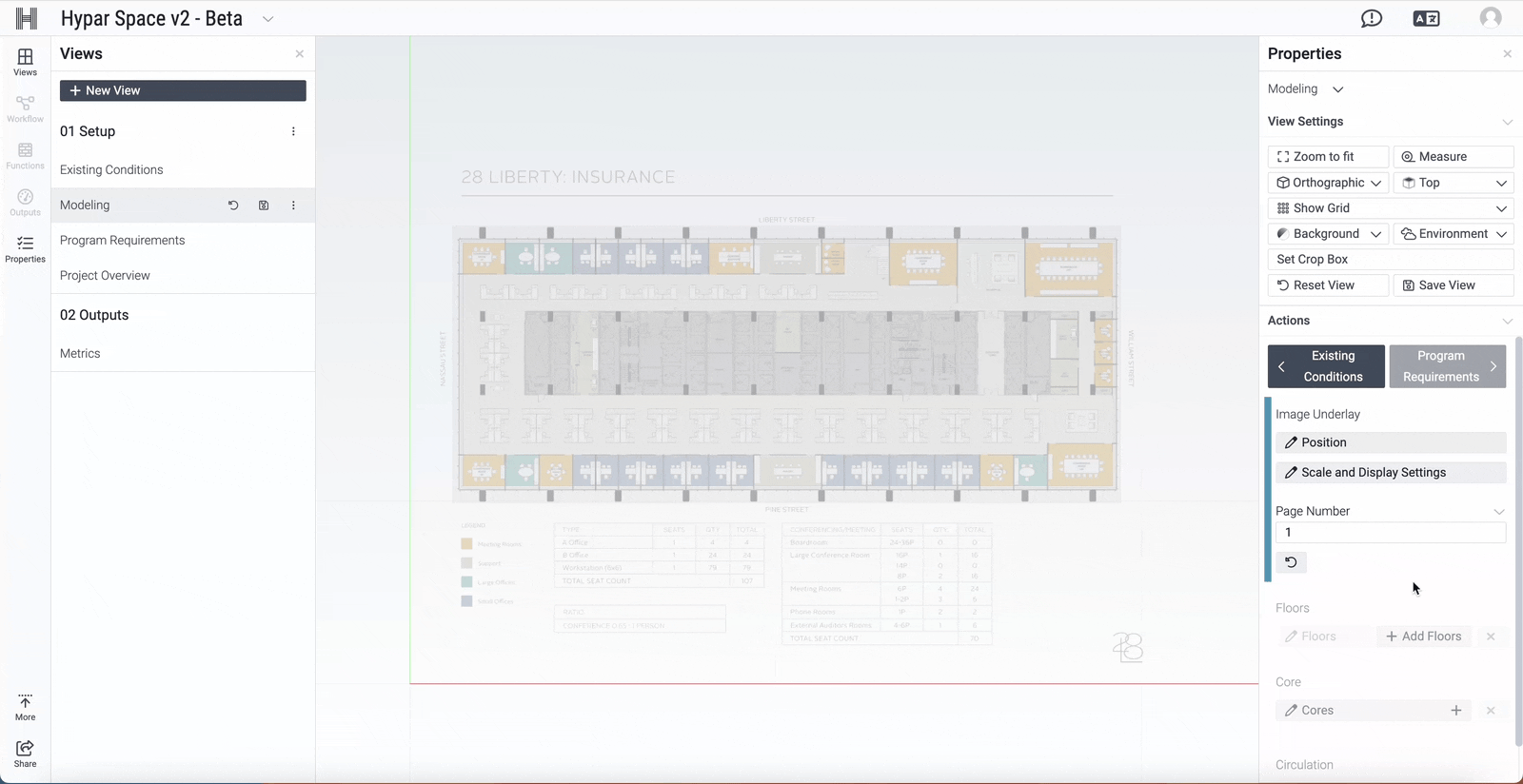 Continue with
Step 1
of the tutorial.
Starting from a DXF
Select the option "I have a CAD plan (.DXF)" to import your DXF file.
You can accurately trace a DXF and use that as the basis for your layout.
When you draw your floor and core, the geometry will snap to the provided DXF.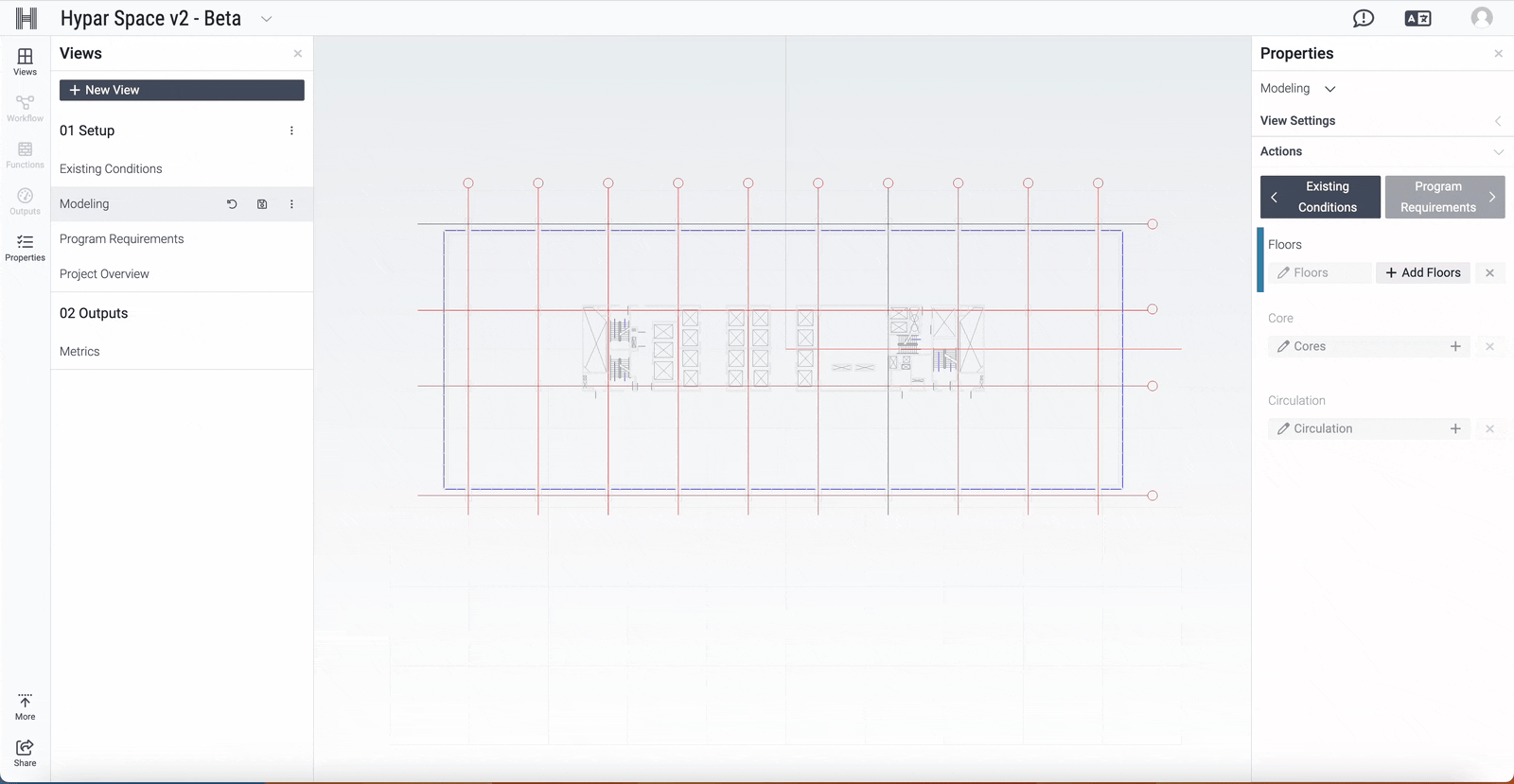 Continue with
Step 1
of the tutorial.
Starting from Revit
In Revit, with a project open that contains Floor elements, export your model for Hypar with one of the Export options in the Hypar toolbar. Make sure you have a view open in which the floors are visible if using the Open Views to Hypar method or selected if using Selection to Hypar.

Save the resulting JSON file somewhere you can find it.
In Hypar, select the option I have a Revit model to import the exported JSON file.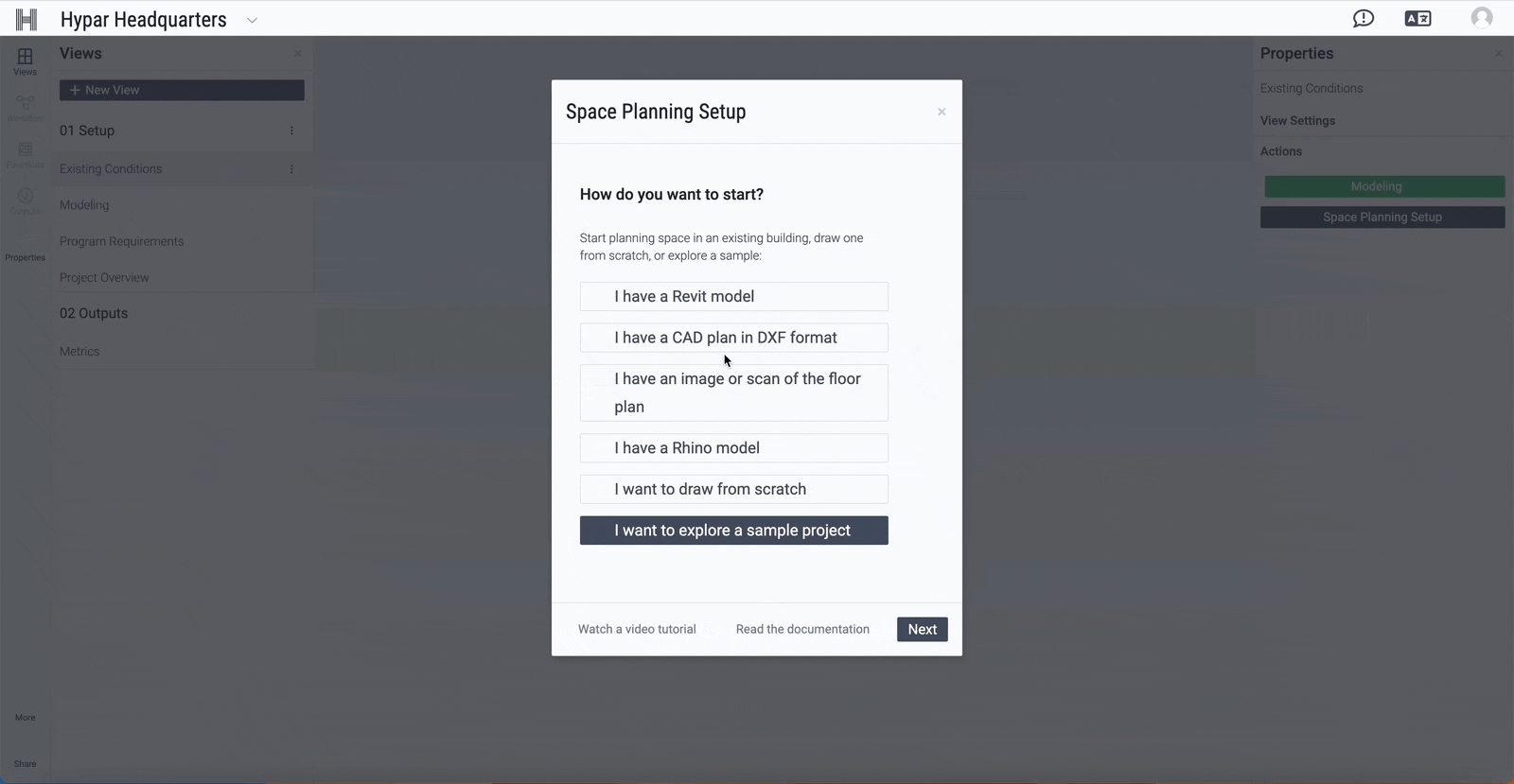 Now proceed to
step 3
of the tutorial.
Bringing your finished layout into Revit
To import your Hypar Space results into Revit click the "Download" button in the lower-right corner of the interface. Choose Revit from among the available options: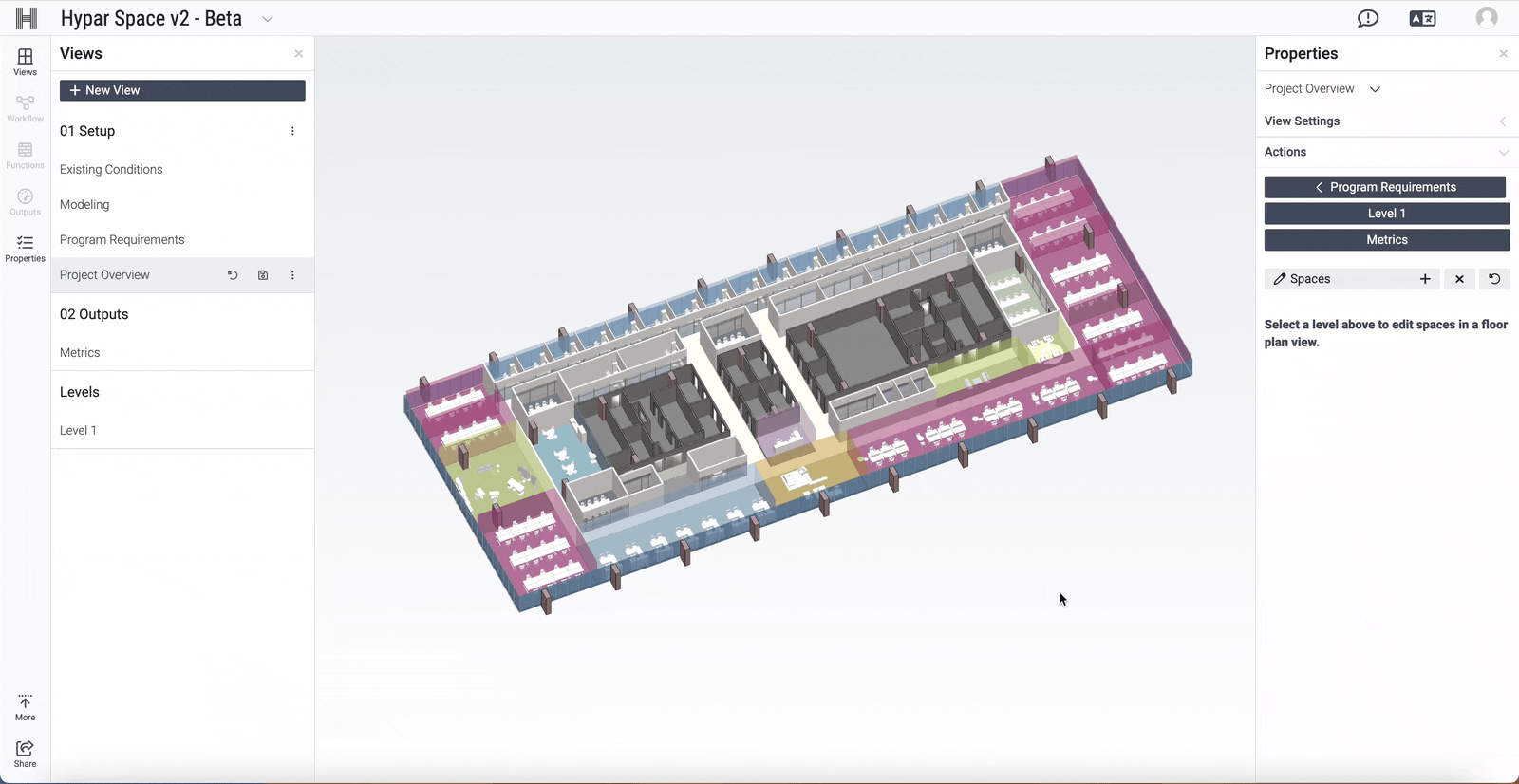 Next, open up a Revit model that has the corresponding furniture content loaded. Here is an example model you can use that has all the furniture families from HyparSpace pre-loaded for you:
All Furniture Preloaded - Steelcase.rvt
Dropbox is a free service that lets you bring your photos, docs, and videos anywhere and share them easily. Never email yourself a file again!
https://www.dropbox.com/s/2f1y0sv6ul4gxjo/All%20Furniture%20Preloaded%20-%20Steelcase.rvt?dl=0
You can use this model directly, or if you need to load these families into an existing project or template, see this page:
How do I load all the Hypar Space Revit families into an existing project or template?
Use the "Load Model" button and navigate to the JSON file you downloaded.

You may have to dismiss a few errors, but otherwise the model should now appear. That's all there is to it!
Note that family instances will load best in a 3d view, whereas rooms will only load in a plan view.
Working with multi-floor projects
Learn how best to access floor plan views and easily work across multiple floors with the features highlighted here:
Working with multi-floor projects